What to see in El Chaltén in 3 days - routes for mountaineers and hikers
Wanting to see one of the most impressive mountain destinations in the world? Here you have everything you need. Hiking routes for all levels and physical forms, viewpoints, excursions, and a thousand plans and places to see and do in El Chaltén.

And then came El Chaltén, one of the most eagerly awaited moments of my trip through Patagonia. With its mountains of ice, its sunrises of fire, its lakes of impossible colors, its sometimes-intimidating landscapes, its good atmosphere, and its unbounded beauty. At that moment I felt that everything had been worthwhile, that the trip through Argentina made sense. And you are about to experience it in the first person. Join me in this incredible adventure. The best plans to make and what to see in El Chaltén in 3 days, hiking routes and viewpoints for all tastes.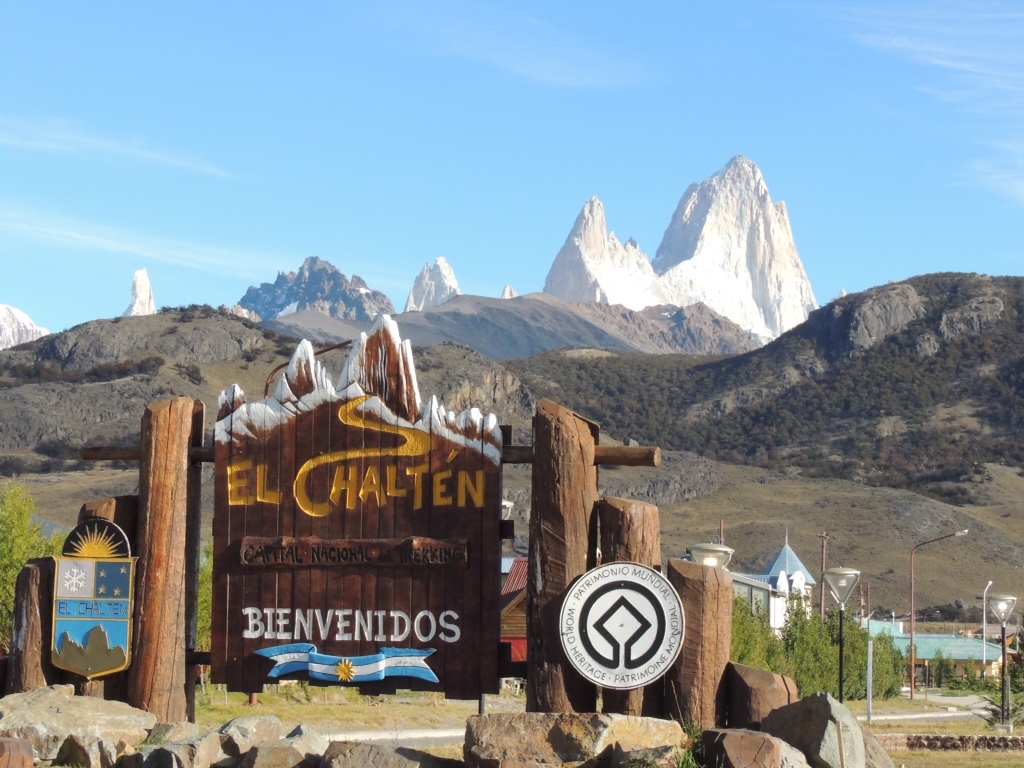 Argentina
They call it the Argentinean capital of trekking and very soon you will understand why. We are located in the province of Santa Cruz, specifically within the Los Glaciares National Park. El Chaltén is a small town located at the foot of a large mountainous mass belonging to the Southern Andes with peaks as emblematic as Fitz Roy or Cerro Torre.
As I was saying, El Chaltén is located in the Andes Mountains and inside the Glaciers National Park. It is a border area with the neighboring country of Chile and super close to one of the most visited destinations in all of Patagonia: El Calafate.
Every year El Calafate receives huge amounts of tourists looking for the most famous glacier in the world, the Perito Moreno Glacier. This circumstance makes it very well communicated with other areas of the country. Especially by air. You can reach El Calafate airport via Buenos Aires, San Carlos de Bariloche, or Ushuaia thanks to domestic flights operated mainly by Aerolíneas Argentinas or Latam to a lesser extent.
Once you have arrived in El Calafate you can take a bus which is only three hours will drop you off at the El Chaltén bus station. These buses leave from El Calafate station and, at some times, make an intermediate stop at the airport. That is, you can travel directly from the airport to El Chaltén and vice versa.
You can also get to El Chaltén without flying to El Calafate airport. In Patagonia, several long-distance bus lines connect the main towns in the south of the country. Some of these bus companies I have just recommended connect this small town with other towns such as San Carlos de Bariloche, Río Gallegos, or Ushuaia.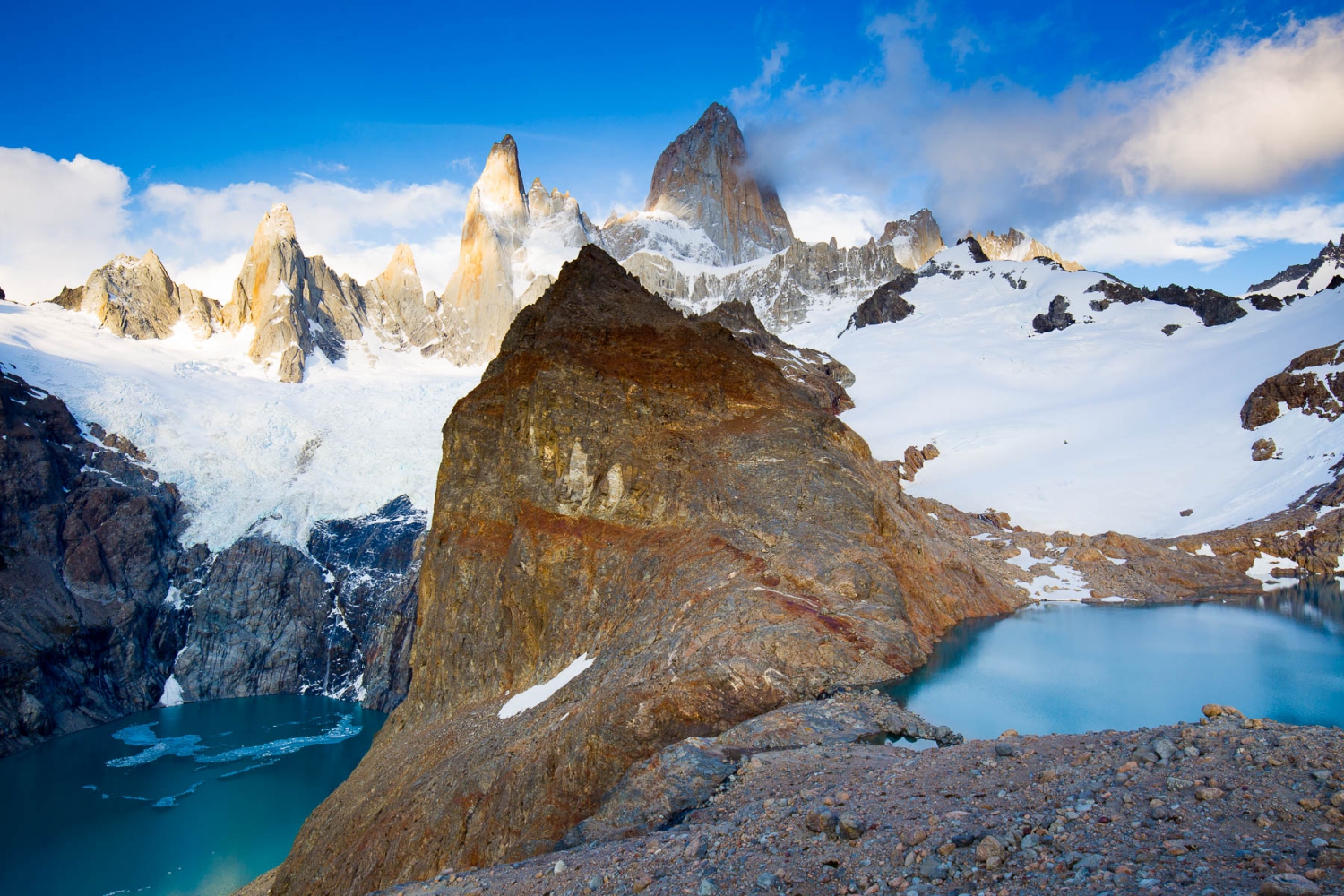 The buses are very comfortable. In general, they have nothing to do with what we are used to in Spain. However, be prepared for the longest road trips you will ever experience in your life. The distances in Patagonia are immense.
Don't expect much from the town of El Chaltén. However, I must admit that I liked it very much. There is a very special atmosphere in this town - a mountain atmosphere! Besides, the constructions are very cute. The typical low houses made of wood and painted in super bright colors. Most of them are accommodations or work as shops focused on the traveler. In other words, this is a town that has developed around its main economic resource, tourism.
Within El Chaltén you will find everything you need to survive during your stay. From small supermarkets and a multitude of bars and restaurants to tourist agencies, shops with sports equipment and campsites to buy or rent, and some little stalls with handicrafts and tourist souvenirs. But be prepared to be amazed at the prices, especially for food in the supermarkets. Sometimes it was cheaper to eat in a restaurant than to buy in the supermarket.
You don't have to be an experienced mountaineer to visit the best places to see in El Chaltén. Just because you like walking and have a great desire to see one of the most spectacular mountain landscapes in the world, that's enough. Below you will find plans for both mountaineers and people who are not in good physical shape. I'm going to detail the treks and excursions I did in 3 full days and other options that will allow you to adapt it to your tastes.
This is one of the most emblematic trekking routes. Without a doubt, a must-do in El Chatén. A path of approximately 20 kilometers round trip, and 8 hours of duration that will take you to the foot of the Lagoon and the Cerro Torre. It has it all. Incredible bare rock peaks and an impressive glacier that falls to the greyish waters of the lagoon.
Don't be scared by the length of the hiking route. As you can see, despite being so long, you will only have to overcome a difference in the level of only 750 meters. So it is very comfortable. Once you get to the lagoon you can go down to the water level and enjoy the panorama peacefully, and also continue walking along the ridge to the Maestri viewpoint. This is a perfect natural balcony to observe the glacier closely and another perspective of the lagoon. In this last case, you will have to add one more hour to the route.
If you found the walk to Laguna Torre spectacular, the Laguna de Los Tres is crazy, from another planet. Without exaggerating I can tell you that it's the most beautiful hiking route I've ever done in my life. A path that gains height between rivers, lagoons, and spectacular views until it reaches the base of the great giant, the base of Cerro Fitz Roy.
It is a very long trail. Approximately 25 kilometers round trip. And, although it has no notable difficulties, the last climb, the one with the greatest difference in level, is somewhat hard and heavy. But it all pays off when you enjoy a clear day in this nature's paradise.
In mid-November, the Laguna de Los Tres was still completely frozen. An image that contrasts with the incredible blue color of its neighbor, the Laguna Sucia. I would have stayed there for hours watching the panorama as the clouds crept in between the stony peaks of the Fitz Roy (3,359 meters) and its younger sisters. It is as amazing as you see in the pictures and much more. It is inexplicable. It is worth every drop of sweat.
As with the Laguna Torre trekking, the way is super fun. You will enjoy another very cool lagoon, the Laguna Capri, impressive viewpoints such as the one of the Vueltas River, and a landscape marked by the omnipresent stone and ice peaks.
Once again, it's a good idea to get up early to avoid the weather getting in the way, and also to take into account the weather forecast. Doing this route on a cloudy day must be very disappointing.
The third day begins with a lot of desire to continue discovering incredible places to see in El Chaltén. I recommend you to set your alarm very early today. The idea is to see one of the most impressive sunrises of your life. In El Chaltén a curious phenomenon is taking place. The great peaks of the mountain range light up in a super intense orange tone just before the sun rises over the horizon. Don't tell me that something like this is not worth getting up early.
I have to say it. I didn't expect much from this tour. However, it was able to leave me speechless. After a two-hour van ride with several interesting stops, we reached the vicinity of Desert Lake. There you will have approximately 2 or 3 hours free. With that free time available you could choose between doing a little sailing on the lake or climbing up to the Huemul Glacier. I opted for the second option and what a success.
PUBLISHED: Nov 3rd 2020 | UPDATED: Nov 10th 2020