Christmas Traditions in Argentina
Arts & Culture Lifestyle
Argentina is preparing to receive an unconventional Christmas in a pandemic framework, with a series of habits and traditions of its own and others not so much, where family value and Christmas Eve dinner play a very important role.
Although it is not cold at this time of the year in Argentina, tradition dictates that Christmas should be spent as a family, around a decorated Christmas tree and eating a great dinner together. The eve of December 25 is an opportunity to appreciate the value of family and share the bread that is on the table with loved ones.
The typical dishes for Christmas dinner are usually chicken, pork or even a complete barbecue, which is accompanied by a good glass of wine and some toasts or sweets.
At most Christmas tables we will find cold dishes and hors d'oeuvres, such as the famous Vitel Toné, slices of meat (peceto) accompanied by tuna sauce, hard-boiled egg, anchovies and cream, the traditional Egg Salad, with pieces of potatoes and mayonnaise, Rolled Matambre, which is made with a piece of beef that is rolled with boiled egg and pepper, or other ingredients such as parsley and garlic. In addition, we can find stuffed tomatoes with tuna salad and many desserts such as ice cream, custard, cakes and nougat.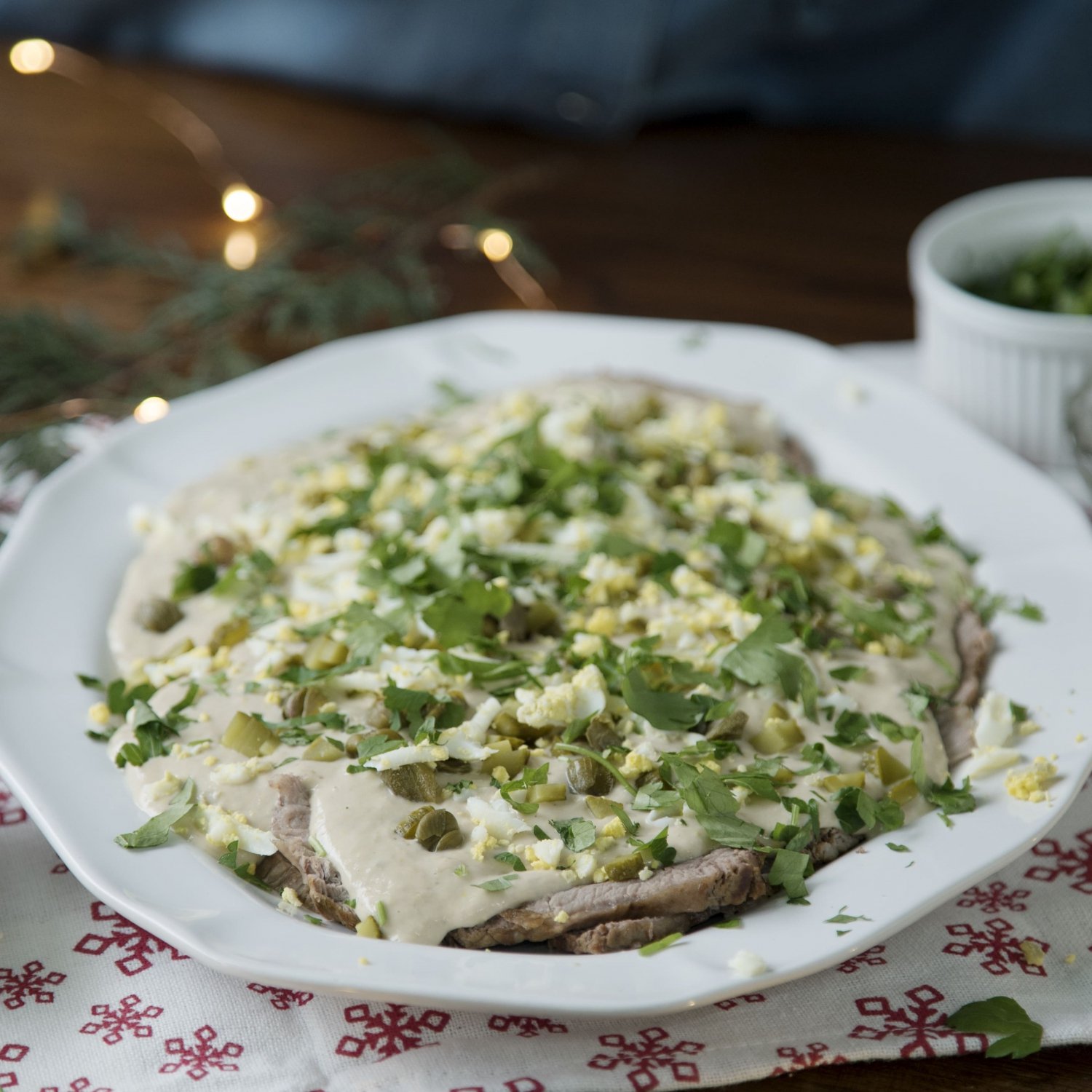 Vitel Toné, typical Argentine festive food.
At the end of dinner, it is customary to continue with a tasting of Pan Dulce, a kind of Italian "Pannetone" but with an Argentine tradition: a dry cake made with dried fruits, glazed fruits and orange blossom water that is bought in all bakeries throughout the month of December. They accompany jams and glasses of cava at the time of the toast at midnight.
At midnight and after family dinner, the weather turns festive and there are fireworks show, not to mention the classic illuminated hot air balloons. Due to the great European influence in Argentina, it is normal to see the typical Christmas decorations in the houses, full of snow, reindeer and Santa Claus. Who also brings gifts to Argentine children during the night after dinner and before Christmas day itself.
It is important to mention the decoration of Argentine homes, which tend to take advantage of red and green colors to decorate their rooms. Inside, families hang a red Christmas sock along with the Christmas tree, previously assembled on December 8, which is decorated with flashing lights.
Like various cultures, Santa Claus becomes a commercial character and a huge inspiration for the little ones in the house, who in recent weeks aspire to have a good behavior and receive their desired gifts. These will be opened that same night, as they also do in North America and afterwards the adults have a few glasses such as cider, juice or champagne, and the little ones usually go out to dance while the older ones do it at home. rhythm of a typical tropical cumbia.
The next day, family members meet again to eat or visit loved ones. They can also take the opportunity to go to the beach, since these days the Argentines began their summer vacations.
The Argentine government for these holidays did not dictate a curfew or cancel events, or things like that. The meetings will be held in a framework of responsibility, care and with limited numbers of people, if not possible outdoors, in places with good ventilation. It is recommended that they be with partners or a regular contact group (burburja).