Buenos Aires: a week in the Argentine capital PART II
Day 5: La Boca and other tours of the micro center
On Friday morning we went to La Boca, perhaps the most interesting and colorful neighborhood in the city and undoubtedly one of the main attractions in Buenos Aires. The colorful houses are just as the Genoese immigrants built them at the time. We walked for a while along the Caminito which is the tourist part of the neighborhood where you can see all these colorful houses, very lively streets with tango shows, thousands of souvenir shops.
It is very nice to walk around these colorful streets that give you a lot of joy. It's a pity that two streets away from here everything is not so beautiful anymore. The other icon of the neighborhood is just a few blocks away from Caminito, the home of Boca Juniors, probably the most famous team in Latin America. Maradona is omnipresent in this neighborhood, there's even a guy fooling around with tourists who looks a lot like him. Leaving the Caminito you can see that La Boca is one of the poorest neighborhoods in the city. And in fact, walking in La Boca is surely not something to do in Buenos Aires at night. The neighborhood of La Boca, Buenos Aires, Argentina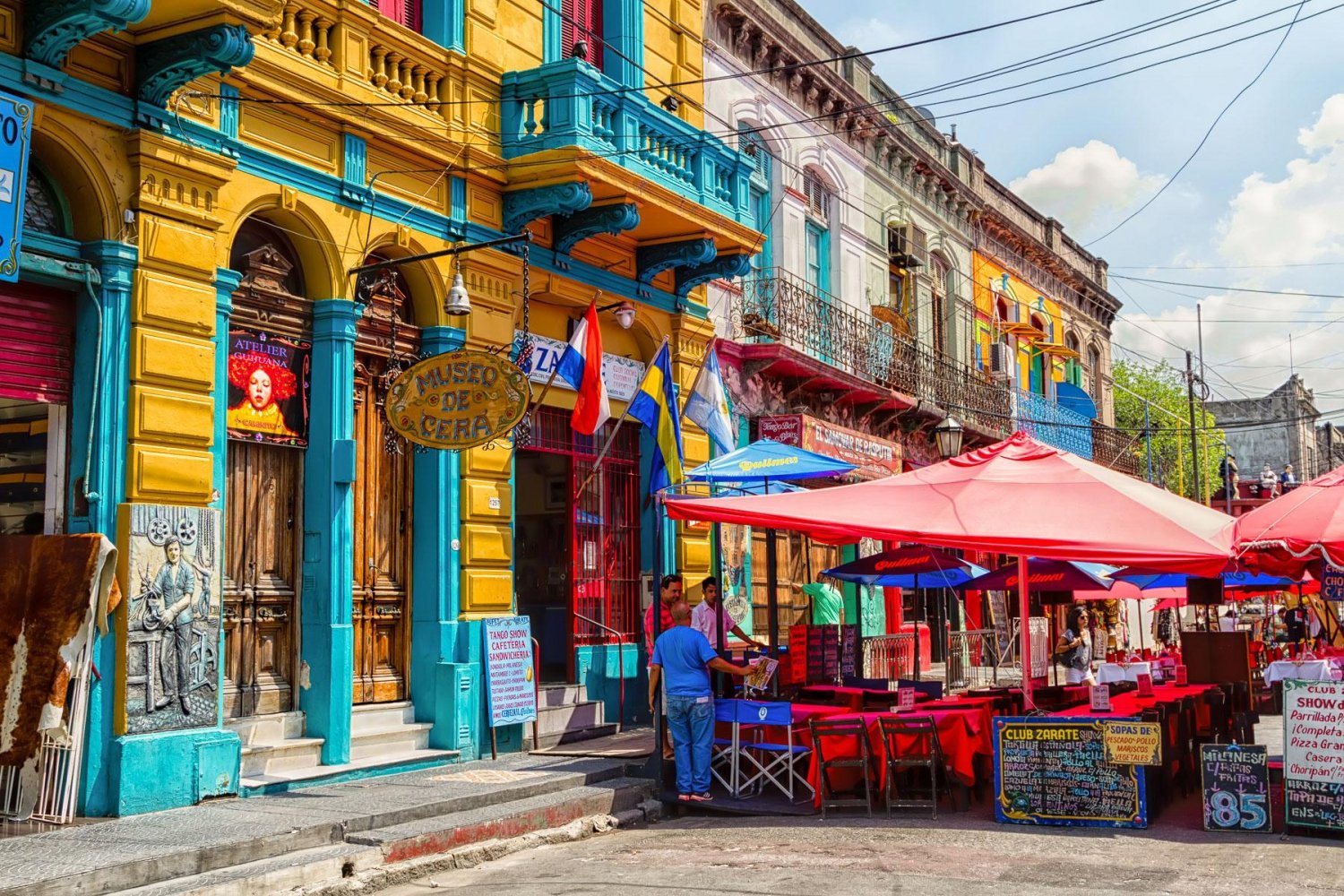 After enjoying the atmosphere of La Boca we went back to the center and walked for a while along 9 de Julio Avenue, went to see the Colón Theatre, walked along Córdoba Street, and also went to buy our tickets to go to Uruguay the following Monday. After getting tired of walking, we did one of these activities that all visitors have to do in Buenos Aires, we went to have chocolate with churros at Café Tortoni which is an emblematic cafeteria of the city with 150 years of history. Café Tortoni, Buenos Aires, Argentina
Day 6: Places near Buenos Aires to spend the day - San Antonio de Areco
There are many interesting places to spend the day near Buenos Aires. We would have liked to see a bit of life in the pampas and at least breathe a little of the life of the gauchos, these characters of country life. To do this we made a bus trip to San Antonio de Areco, a village 100 km from the city and a San Antonio de Areco is a small and very quiet village with a quite big central square. What surprised us was to see that the church is dedicated to San Antonio de Padua (the saint of the city of Rachele). Estela explained to us that here San Antonio is very venerated because many monks came to Argentina. We had already realized that he was a saint loved by the Argentine church because there is a statue of St. Anthony in each of them.
At midday we went to remove a little thorn, until now we had not eaten Asado at the barbecue, only on the grill, so we went to a restaurant that looked quite rustic and ate a very tasty Asado. The difference between the Asado al asador is that it is cooked standing up with the fire in the middle while the Asado a la Parilla is the classic Asado on top of a grill. San Antonio de Areco, excursion from Buenos Aires, Argentina
The other thing we would have liked to have seen was a stay, but here (as we can say in general in South America) at the tourist office they didn't help us at all. Estancias are country houses owned by rich families who in many places offer you accommodation, food and you can see a bit of country life. They are ideal places near Buenos Aires to spend the day, but paying for a night on an estancia is not for the backpacker's budget.
So we would have liked to just see something, but the information center gave us some bad information and first we went to a hotel called estancia, but it was a resort. When we got there we were informed that in the village itself there is another one that is an estancia, so we went to this place and walked around a bit in the garden, saw the horses, a typical gaucho house with its oven made of mud and caca.gauchos in San Antonio de Areco, excursion from Buenos Aires, Argentina
Day 7: Places near Buenos Aires to spend the day - Tigre
In the morning we went on an excursion by train to Tigre which is another nice place to spend the day near Buenos Aires and is popular with the porteños (the people of Buenos Aires). It is a kind of city on water because several rivers cross it and many people get into a boat to go for a ride on the rivers. Many people practice water sports, especially rowing, there are many clubs from various nations. Probably because it was a cloudy day and the colors were grey, besides there were a lot of people, we did not like this place.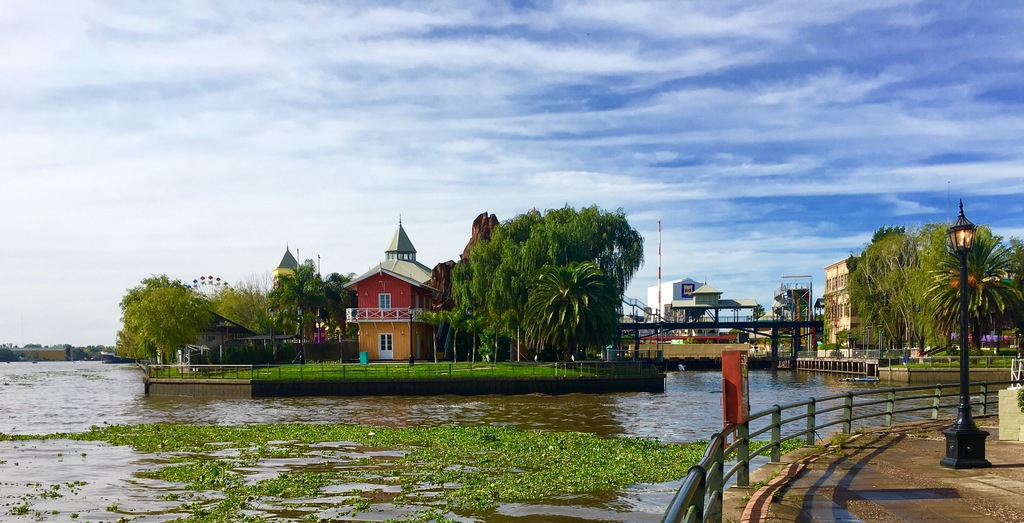 Returning from Tigre we went directly to the neighborhood where on Sundays they usually have the "Festa del Matadero" which is a party with street performances and many food stops. It is one of the most interesting places to visit in Buenos Aires for free, we were not lucky because this Sunday they didn't do it, so we went to a quite authentic bar where, drinking some empanadas and beer, we saw some gauchos dancing with their women, we had a lot of fun.
Another thing to do in Buenos Aires at night is to enjoy its lights. At night we went for a last walk around the city, passing by the center and the neighborhood of Puerto Madero where we were almost two months ago, on our first day in South America and which is a very pleasant neighborhood at night. With that, we have closed our stay in Buenos Aires. Casa Rosada, Buenos Aires, Argentina
Buenos Aires is a magical city (the city of fury, as the Soda Stereo used to say), it is not like any other city we have known before. Neighborhoods with a strong character and a city full of characters. We think that 5 days is the minimum you need to see it, but if you want to know a little bit about the surroundings as well, you better stay at least a week. We hope that our mini-guide will help you set up your week including many places to visit in Buenos Aires for free.
PUBLISHED: Nov 3rd 2020 | UPDATED: Nov 10th 2020