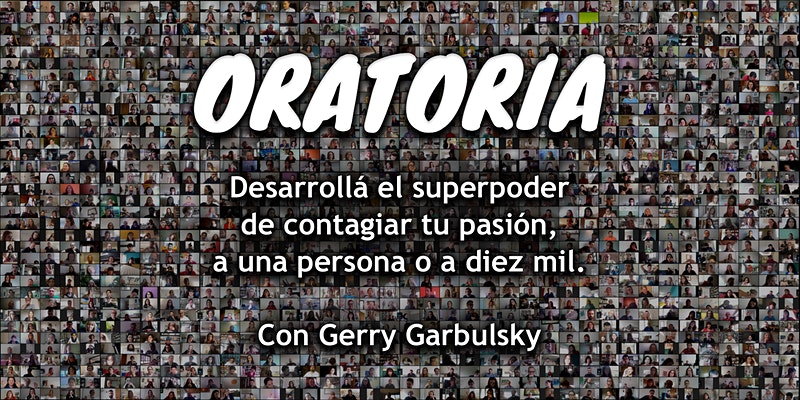 Oratory - Second Edition - Participants from Argentina
By Gerry Garbulsky
Tue Apr 6th 2021 at 18:30 until 20:30
---
Argentina
Argentina
https://www.myguideargentina.com/events/oratory-second-edition-participants-from-argentina
BOOK NOW
Event Details
Best events in Argentina
Online event
Human beings have the ability to use the word to sow ideas in other people.
In this course, I am going to share what I learned by helping speakers from TED, TEDxRíodelaPlata, and El Mundo de las Ideas in the preparation of their talks.
We will have 4 online matches on Tuesday, April 6, 13, 20, and 27, 2021 from 6:30 p.m. to 8:30 p.m. (Argentina time). You can participate from anywhere in the world.
The cost of the course is AR $ 6,000. We offer a limited number of scholarships of 50% for those who really want to participate and cannot pay the full value of the course.
The recordings of the classes will be available for 48 hours a few days after each class. So those who cannot attend any of the classes can recover it by watching the video.
Teacher: Gerry Garbulsky
Apart from doing the podcast and giving the Learning by Great courses, Gerry is Director of TED in Spanish, Organizer of TEDxRíodelaPlata, and Founder of El Mundo de las Ideas. He is a Physicist (UBA) and Ph.D. in Materials Science (MIT). He has a world record and was once mistaken for Diego Maradona.