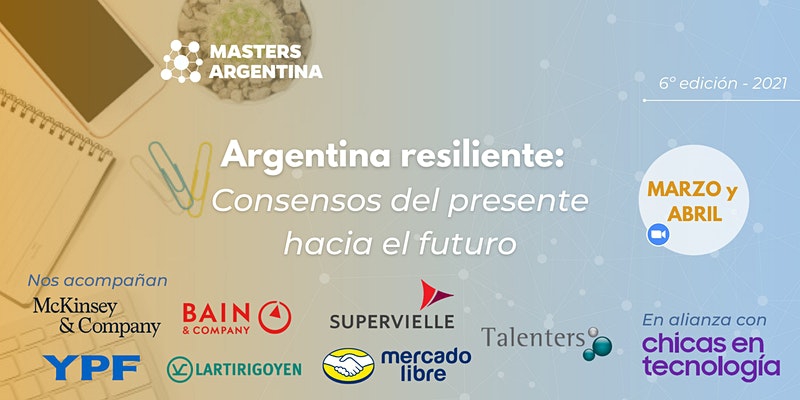 Masters Argentina 2021
By Masters Argentina
Sat Apr 10th 2021 at 10:00 until 15:00
---
Argentina
Argentina
https://www.myguideargentina.com/events/masters-argentina-2021
VISIT WEBSITE
Event Details
Best events in Argentina
Online event
This year we are organizing the virtual conference "Resilient Argentina: consensus from the present towards the future". This conference invites us to sit down and talk about how to adapt to the challenges of the new decade and how to take advantage of our strengths to achieve inclusive development in a complex context.
The conference already started on Saturday 03-13, but it will have two more meetings, on Saturdays (03-27 and 04-10) from 10 a.m. to 3 p.m. EST, and it is aimed at Argentine students with master's degrees abroad. be it current or graduate. During this time you will be able to access panels of experts and top-level Argentine leaders, as well as you will have the opportunity to chat hand-in-hand with Argentine leaders from all walks of life at our discussion tables.
Our panels will touch on important topics such as the future of the labor market in Argentina, the gender gap and the response of the State, the challenges of our health system, and how to apply new technologies to boost the country's growth.
This year from Masters Argentina we decided to partner with Girls in Technology because we support their dual objective of closing educational and gender gaps. We invite you to learn more about the work of Chicas en Tec. Registration for the conference is FREE, but we encourage all those who can to contribute with a donation to contribute to Chicas en Tec.
We remind you that you can only buy the ticket for each day until Friday at 23:59.